The Project Health Check (PHC) is an independent reflective assessment and learning exercise of the status of a project to identify what is going well and highlights the areas of improvement and potential developments during project execution.
You can download the Project Health Check Whitepaper here.
Why you need a Project Health Check
It is well known that in many projects, the cost of correcting an issue is many times the cost of preventing it. This has been proved by e.g., independent organisations like IPA (Independent Project Analysis).
Potential looming problems may go unnoticed or ignored because the project team is confident that for example if it sticks to the plan, the benefits will materialize.
Project teams, including sponsors and sometimes even members of the Project Steering Committees, are quite often so involved in the day-to-day activities that they fail to recognise the true status of a project.
At company level, by conducting project audits, problems and deviations can be identified and resolved in a cost-effective manner and applied to future projects.
Furthermore, the Lessons Learnt (LL) registers -based on LL workshops which have been facilitated by Boelens Projects In Control B.V. (BPIC)- proved that proper health checks during project development and executions could have saved significant time and costs.
Basis of the Project Health Check Design
The PHC has been based on subjects as described in PMBOK®, PRINCE2®, AACE®, the learnings as gained from Shell Open University and many years of experience in Project Organizations and Project Management Consultancy. The PHC has been initially designed for starting a project in the early Basic Engineering Phase. The current version of the Project Health Check can be used for project gate passing, as well for the detailed design and engineering and early construction phase. Monitoring the improvements over time is quite easy because we can easily compare the outcomes of different analysis
Currently the PHC tool will deal with 12 subjects, and in total 17 subjects are at this time available in the Project Health Check tool by using a picklist:
Business Case
Organisation & Resources
Risk & Opportunity Management
Lessons Learnt
Schedule Management
Cost Management
Cost Forecasting and Control
Document Management
Project Reporting
Quality Management
Procurement Management
Project Plans, Procedures et cetera
Project Performance
Integration Management
Management of Change
Stakeholder Engagement &Communication Management
Project Steering Committee
Furthermore, other subjects can be developed and included.
We currently included over 330 questions / statements for the above-mentioned subjects. In average it's about twenty questions / statements per subject. We included default weigh factors which of cause can be changed to tailor the tool to the needs of the project or organisation.
Types of Health Check
We currently offer four types of Project Health Checks:
PHC Quick scan
PHC Project Assurance Scan
PHC Deep Scan
Project Control Deep Scan
For more detail about the Project Health Check Types just check this document.
When should we schedule our Project Health Checks?
This picture highlights the Project Health Checks plotted in a project phase graph for both small and large projects. Such a graph could be considered as input for a Project Assurance Plan or Project Quality documents.
Optional reviews, indicated with "R", are quite often used in the industry to make sure that potential improvements have been implemented and to prove that the project is in control and executed according to your expectations.
A short document describing the Project Health Check during the project phases can be found here.
Project Health Check Report
Please find below one of the layouts of the report, it's a four-colour scale which includes a target score represented by the dotted blue line. The trend line could be disabled furthermore, a graph with two colours with the same score could be used as well, the tool is quite flexible!
An example of a two colour scale can be found here.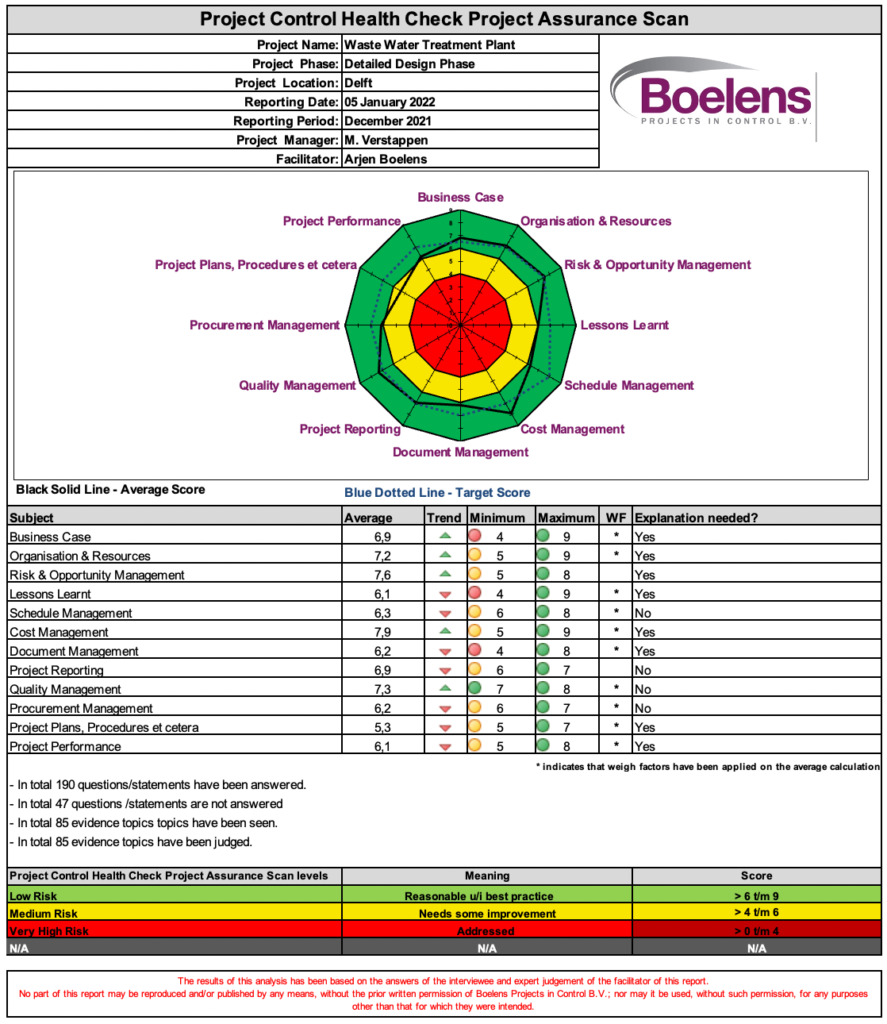 The Project Health Check findings will be shared with you during a meeting supported by a PowerPoint presentation.
The Project Health Check graphical overview as shown above is the basis of the PowerPoint report and gives already a fair overview of the status of the project.
The content of the report includes the interviewees list, a high-level will be included, the PHC findings and  detailed recommendations will be shared with you. A table regarding documents seen and/or reviewed will be included. The Specific PDF documents which have been reviewed will be marked, and all documentation will be combined in one PDF.
Special requirements will be agreed on prior the Project Health Check and included in the report.